In our age of social media, ratings and business reviews are the name of the game. We've got into the habit of rating about anything and everything, and we love to share our opinions with the world. According to Ipsos Research Institute, 7 out of 10 shoppers in the MENA region consult online reviews before purchasing a product for the first time. Shoppers rely more on genuine customer experiences than celebrity endorsements or glossy testimonials. And don't be mistaken; they can distinguish between genuine reviews and glossy influencers' testimonials.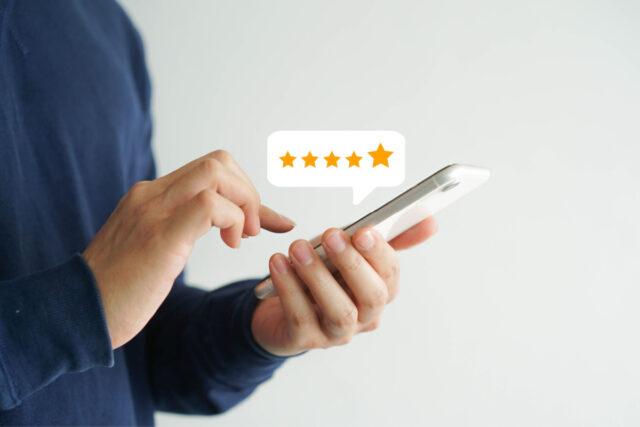 That's how monumental business reviews and customer feedback have become. They're not just little stars next to your products but the building blocks of your online brand reputation. These authentic slices of customer sentiment directly influence consumer trust and purchase decisions.
Whether you are navigating the e-commerce seas, bolstering a retail empire, or carving out a niche in consumer goods, knowing how to manage, moderate, and maximize these reviews is your golden ticket to business success. This comprehensive guide is designed to be your ultimate playbook, devoid of jargon yet brimming with practical tips.
So, are you ready to transform customer reviews into your brand's most compelling asset? Let's dive in!
What Makes Online Reviews Crucial in the Social Media Era? 
Every business aspires to be successful, and most evaluate their success based on their sales and profits. But Customer satisfaction is critical as it will keep your clients returning to you and telling others how happy they are with your services.
Online reviews are pivotal in shaping consumers' purchasing decisions. In fact, 3 in 5 shoppers declare being influenced in their purchasing decisions based on these reviews. They give insightful information and can be an effective tool for companies wanting to generate leads and increase sales. 
At the core of the influence of customer reviews is the concept of social proof. In this powerful psychological phenomenon, people assume the actions of others reflect the correct behavior in a given situation. 
Tied closely to the social proof lies the social concept of the crowd's wisdom. It suggests that collective opinions are more trustworthy than individual or paid endorsements. When consumers see many reviews supporting a product, their confidence in that product increases.
Furthermore, consumers tend to write reviews when they experience high emotional responses, whether positive or negative. This emotional connection amplifies the perceived authenticity of reviews, making them more influential to potential customers.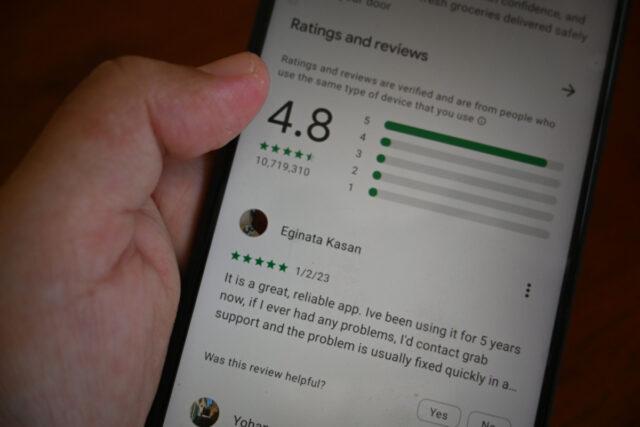 But it's a double-edged sword. Positive reviews can encourage hesitant customers to buy, while negative reviews deter them from purchasing. 
The impact of reviews can vary across businesses and regions. The travel and restaurant industries are among the most impacted by business reviews. Positive reviews can help build trust, enhance the reputation of hotels, restaurants, and other travel-related businesses, and ultimately drive bookings.
The Benefits of Collecting and Showcasing Positive Reviews and Testimonials
You must actively encourage satisfied customers to leave reviews to leverage positive reviews effectively. Ensure you respond to reviews promptly (both positive and negative) and showcase positive feedback on your website, social media channels, and other relevant platforms. Remember, the more favorable your reviews, the stronger your visibility and trust with potential customers.
Positive reviews are crucial in establishing visibility and trust with potential customers. Here's how they contribute to building trust and credibility and attracting new customers:
Increased Visibility/Sales Rank:

Positive reviews can improve your business's visibility online. Many review platforms and websites display ratings and reviews prominently. When potential customers search for your product or service, positive reviews can help your business appear higher in search results. This increased visibility can attract more potential customers to your business.

Higher Conversion Rate: 

While the exact impact of reviews on conversion rates may vary depending on factors such as the product's price, research has found that displaying reviews can lead to substantial increases in conversion rates. For example,

one study

found that:
When reviews are displayed for a lower-priced product, the conversion rate increases by 190%. For a higher-priced product, the conversion rate can increase by 380%
Overcoming Doubts and Objections:

Potential customers may have doubts or objections before purchasing. Reviews can address these concerns by providing evidence of the value and quality of your offering. When potential customers read about others who have had a positive experience, it helps alleviate doubts and increases their confidence in choosing your business.
Driving Business Success through Customer Feedback
Leveraging Reviews to Improve Products and Services
Creating a seamless and user-friendly review collection process
The review collection process is essential to encourage customers to leave reviews and ensure a positive experience. For small-sized businesses, you can send manual emails to your customers asking for their feedback a few days after the product delivery.
But for larger companies, investing in a review aggregator platform that suits your business and target audience is worthwhile. It collects user-generated reviews from various online sources (Google, Facebook, Airbnb, for example) and displays them in one place. Here is a short list of such platforms. 
Leveraging email campaigns and customer surveys to gather feedback
Create visually appealing and compelling emails that grab your customers' attention. Use concise and clear language to explain the purpose of the email and the importance of their feedback. Include a strong call-to-action button or link that leads them to the survey or feedback form.
Design customer surveys that are easy to understand and complete. Keep the surveys short, focused, and relevant to your goals. Address customers by name, mention their recent interactions or purchases, and show that you value their opinions. Schedule your email campaigns to be sent at appropriate times based on customer behavior or purchase history.
For example, a company sells earplugs and positions itself as best-in-class. We can see the post-sale email they send. It is very well thought out and simple, and it asks for happy customers only (!) to give their feedback and for the others to allow the company to offer another satisfactory solution.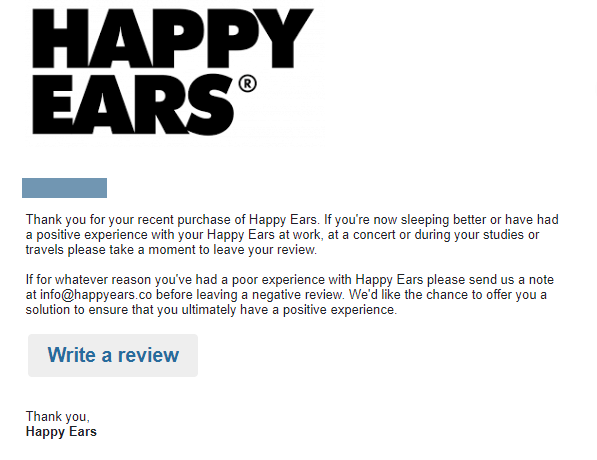 When clicking the "Write a review" button, you are redirected to another page containing a quite lengthy questionnaire that is even harder to read, mainly because of the font size (details are everything, here!).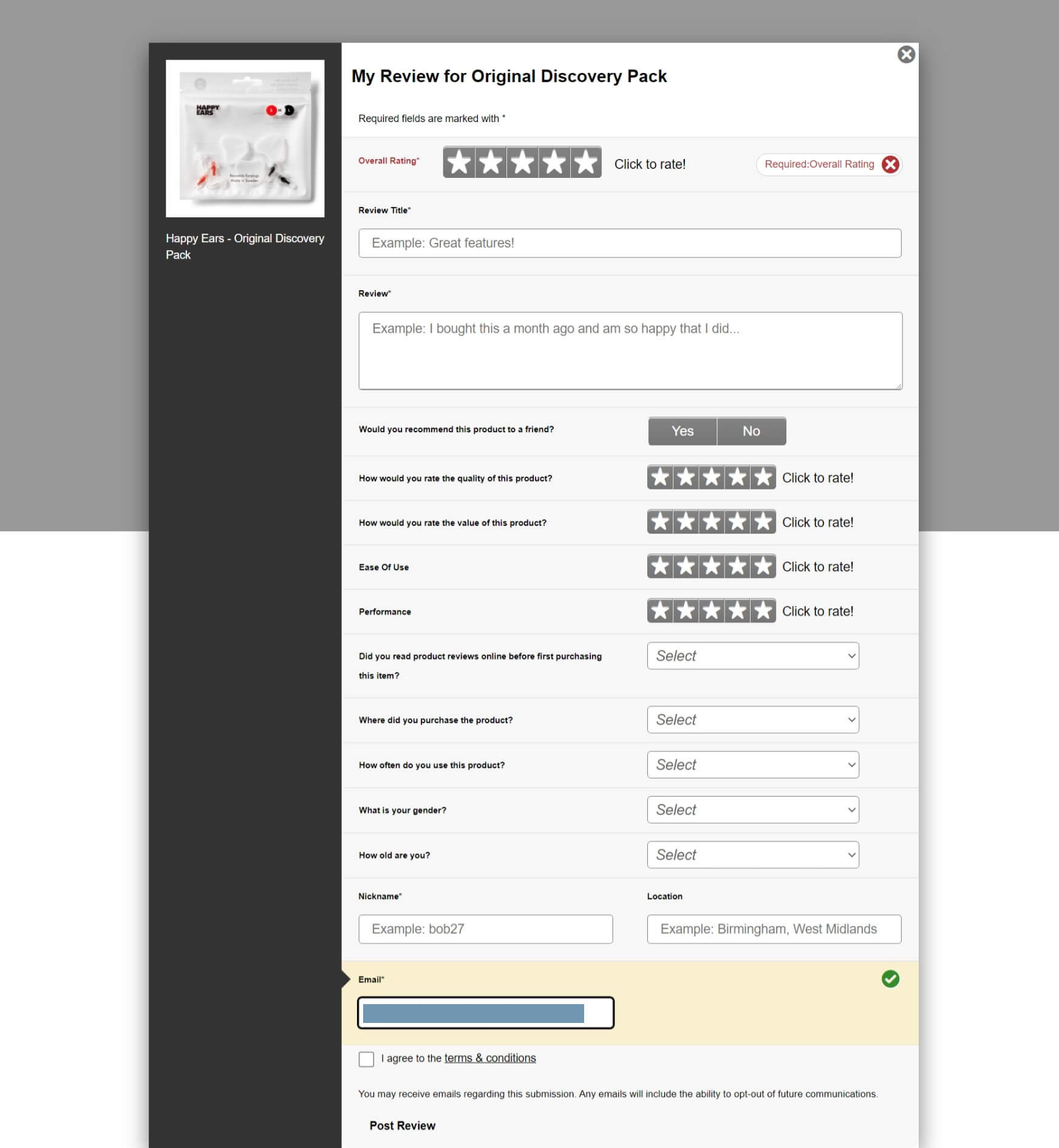 Continuously analyze and learn from the feedback you receive. Identify patterns, trends, and areas of improvement from customer reviews. Use this information to make necessary changes, enhance your offerings, and improve customer satisfaction.
Harnessing Customer Insights to Drive Customer Engagement and Loyalty for Business Growth
Collect and analyze customer data from various sources, such as customer surveys, feedback forms, purchase history, website analytics, social media interactions, and customer support interactions. 
Analyze this data to identify patterns, trends, and preferences. Use the collected data to create detailed customer profiles or personas. Segment your customer base based on common characteristics, behaviors, and preferences. This segmentation enables personalized communication and targeted marketing efforts.
Develop loyalty programs that align with customer preferences and behaviors. Utilize customer insights to design rewards, incentives, and exclusive offers that resonate with your target audience.
The Art of Moderating Customer Feedback
Do Not Be Terrified By Negative Reviews
The idea of a negative review scares most company owners. They see it as the start of the end, as something awful that will ruin their reputation. This is not true. Because no company is ideal, and there will always be bad reviews.
Customers are aware of this. If they see only good reviews and no negative ones, they'll believe that the positive reviews were purchased.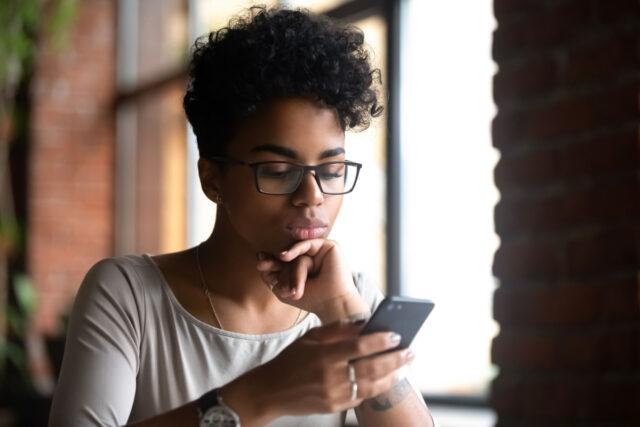 We have already written an article on How to Handle Customer Complaints that can help you deal with negative feedback.
Welcome Positive Reviews. Be Prepared To Accept The Bad Ones. 
Utilize positive reviews to improve both the work and your performance. Improve your abilities and competencies by using bad reviews. They allow businesses to understand what their consumers think and to improve. Take customer reviews seriously and use their suggestions to enhance your product or service and ensure your company's survival.
1# Setting Up An Effective Business Review Moderation Strategy
Your Review Moderation Strategy entails establishing clear, consistent rules and expectations for user-contributed content actively monitoring and managing fake, incentivized, or negative reviews. 
You must decide how to:
deter fraudulent or strategic reviews, 

ensure the authenticity and accuracy of the content, 

foster a safe and inclusive online community (with clear community guidelines), 

identify potential online crisis risks, and think about how to respond as quickly as possible should they arise.

measure your success.
Remember that responding to all the reviews is vital for businesses. A study found that for companies that respond to 100% of their reviews instead of none, their conversion rate improves by 16.4%.
2# Addressing Negative Reviews With Professionalism
You can turn negative feedback into opportunities by replying in a way that makes your clients want to give your business another chance. This will show other potential customers that you have excellent customer service. 
Respond to negative reviews immediately to demonstrate your commitment to delivering a pleasant customer experience. The sooner you reply, the more likely you can fix the problem and stop additional bad reviews. It's crucial to maintain professionalism and empathy while responding to negative reviews. Doing this may calm the situation and prevent more negative reviews.
In responding to a bad review, a brand must express understanding and empathy without blaming the customer and be apologetic about the less-than-ideal experience. Let the customer know you empathize with their situation and make up for the mistake, even if it's not your fault. Offering a discount coupon, free purchasing voucher, or replacement product after a negative experience can also help you earn a second chance.
3# Leveraging Positive Reviews For Business Growth
Positive customer feedback is an essential form of social proof that can significantly impact the reputation and credibility of a business. Showcasing this feedback effectively can help build trust and attract new customers. Here are some ways to showcase positive customer feedback as social proof:
Testimonials on your website:

Create a dedicated section on your website to display testimonials from satisfied customers.

Social media posts and reviews:

Leverage positive feedback from social media platforms like Facebook, Twitter, or Instagram.

Video testimonials:

Create video testimonials where customers share their positive experiences with your product or service. Video testimonials add a personal touch and allow potential customers to see and hear genuine feedback.

Ratings and reviews platforms:

If your business is listed on platforms like Google My Business, Yelp, or specialized industry review sites, encourage satisfied customers to leave reviews.

Influencer endorsements:

Collaborate with influencers or industry experts who align with your brand values and target audience. 
4# Encouraging Satisfied Customers To Become Brand Advocates
Turn satisfied customers into brand advocates to attract new customers, showing them their opinions matter. 
This can be managed by offering loyalty programs, tailoring referral programs, and offering your customers targeted offers based on their purchase history and preferences.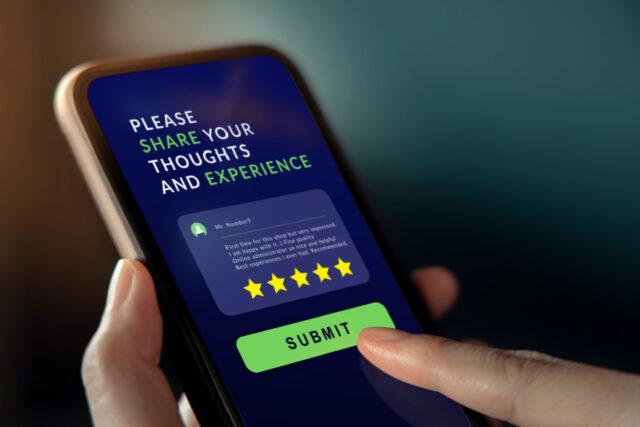 Maximizing the Impact of Business Reviews
Optimizing Google My Business Profile for Reviews
Nearly 10% of Google's search algorithm is influenced by Google Reviews. The more positive reviews you have, the higher your business will rank on SERPs. It also helps local SEO as Google My Business (GMB) reviews are displayed in Google Maps.
Setting up and optimizing your GMB profile is essential to improve your online visibility and attract local customers. 
Here's a step-by-step guide to help you set up and optimize your GMB profile:
1# Sign in or Create a Google Account
If you don't have a Google Account, create one at accounts.google.com/signup.

If you have an existing Google Account, sign in to it.
2# Go to Google My Business
Visit the Google My Business website at google.com/business and click on the "Manage now" button.
3# Enter Your Business Name
Enter the name of your business in the appropriate field.
4# Specify Your Business Category
Choose the most relevant category that describes your business. This helps Google understand your business and display it for relevant searches.
5# Add Your Business Address
If you have a physical location, enter your business address. The platform will verify your physical direction, sending you a post letter that contains a code.  

If you don't have a physical location or provide services at customer locations, select the option "I deliver goods and services to my customers."
6# Set Your Service Areas
If you selected the option to deliver goods and services, specify the areas you serve.
7# Add Contact Information
Provide your phone number and website URL.

You can create a free website using the Google My Business website builder if you don't have a website.
8# Verify Your Business
Google will typically send a verification code to your provided address. You can choose to receive it via mail or phone call.

Follow the instructions to complete the verification process.
9# Provide Additional Business Details
Once your business is verified, log in to your GMB account and provide additional information such as business hours, payment methods, and a business description.

Provide accurate and detailed information to help customers understand your offerings.
10# Add Photos
Upload high-quality photos of your business, products, and services. Photos help attract customers and give them a better idea of what to expect.

Include images of your storefront, interior, team members, products, and other relevant visuals.
11# Encourage Customer Reviews
Positive customer reviews can improve your business's reputation and search rankings.

Encourage satisfied customers to leave reviews on your GMB profile by providing exceptional service and politely asking for feedback.
12# Monitor and Respond to Reviews
Regularly monitor your GMB profile for new reviews.

Respond promptly and professionally to positive and negative reviews to show that you value customer feedback.
13# Post Regular Updates
Use the GMB dashboard to create posts about special offers, events, new products, or relevant updates.

Regular posts can help engage customers and improve your visibility.
14# Use Insights and Analytics
Google My Business provides insights and analytics about how customers find and interact with your profile.

Utilize these data to understand customer behavior and make informed decisions to optimize your GMB presence.
Conclusion
Reviews are becoming an integral part of the decision-making process for customers when choosing a product or service. 
Nonetheless, publishing such reviews and comments can also negatively impact or defame a brand's reputation through offensive or inappropriate harmful content users create. Business reviews should be moderated to protect your brand's reputation, control invasive testimonials, and prevent such content from spreading throughout your website.
If you consider your customers' feedback and reputation management, look no further and contact NAOS Solutions, a talented and qualified team to help you with this process.