How to Choose the Best online payment gateways for Your Business?
What are the best online payment gateways in your online store in Egypt? Choosing the right payment platform can be crucial for retailers who want to sell in Egypt.
An essential part of your business success will depend on this choice. The Stay Secure survey found that about 80% of online shoppers would switch stores based on the availability and type of payment options offered.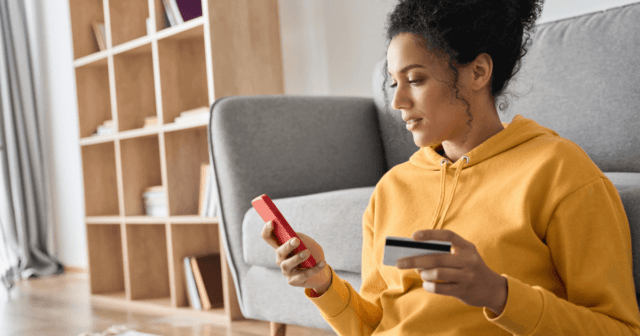 Making the right decision can prevent losing a customer and prevent your competitors from gaining one.
Let's overview the available online payments in Egypt and their specificities. You will then be able to define the most important criteria for your business and compare solutions.
The Online Egypt payment gateways: an upward trend that will continue to Grow
The demand for technology-driven financial services in Egypt is at an all-time high. More and more people are looking to make safe and easy online payments. Cash transactions still comprise a large proportion of all payments made in Egypt.
In January 2022, 57% of online transactions in Egypt were being paid by Cash-On-Delivery, and only 22% were card-based payments(Statista).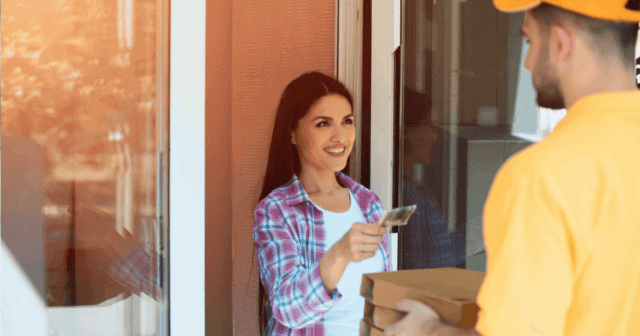 The trend is prominent, and it is increasing. With around 63 million – or roughly 61% of the country's population – under 30, Egypt is seeing a massive shift toward online shopping. And consumers are increasingly using digital payment methods, whether in physical stores or online.
Mastercard New Payment Index 2022 reveals that 64% of Egyptian users increased their use of digital payment methods in 2021.
Quoting the E-commerce in MENA: Opportunity beyond the hype report by Google and Bain & Company: "There has never been a better time to be in e-commerce in MENA!". So, let's start building a crucial element of your eCommerce ecosystem: the payment options.
What to Look for When Choosing an Online Payment Gateway?
There are many reasons why you choose Online Payment Gateways to be your means of financial transactions, the most important of which are: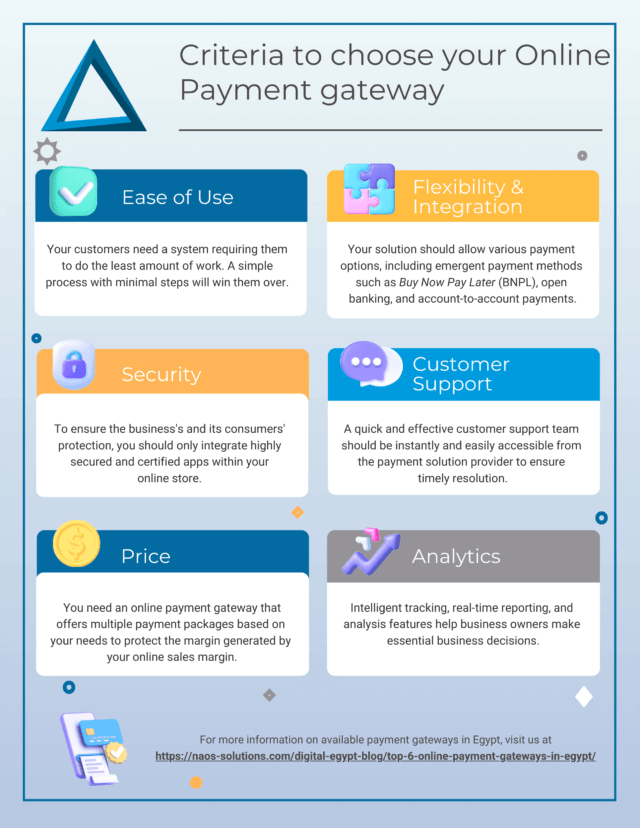 Your customers need a system requiring them to do the least amount of work. A simple process with minimal steps will win them over. A payment system that integrates with other apps and syncs their bank/card details is a significant plus. 
Flexibility and Integration
Some payment gateways may only support a limited range of options, while others offer a more comprehensive selection.
Your solutions should allow various payment options, including emergent payment methods such as Buy Now Pay Later (BNPL), open banking, and account-to-account payments.
88% of consumers in Egypt used at least one emerging payment method in 2021, with usage expected to increase further. 
You should also consider the capability of the payment gateway to integrate with other systems: If you use other business tools or systems, such as accounting software or a CRM, look for a payment gateway that can integrate with these systems to streamline your workflow.
Ensure the payment gateway is compatible with your physical store (if you have any).
The internet is filled with individuals waiting to find a crack and commit cyber attacks. And your business can fall victim to them. With an online payment system, there is the potential to put your money and your consumers' sensitive information at risk.  
According to the 2022 Stay Secure Survey, one in three customers fails to recognize a scam, whereas 80% of people want to know how to secure the data they provide to an e-commerce site.
To ensure the business's and its consumers' protection, you should only integrate highly secured and certified apps within your online store. Your business will only gain customers' trust if their money is safe when making transactions with you.
Your online payment gateway should comply with high-security standards such as the ISO 20022 and/ or ISO/IEC 27001 certifications.
Like any online system connecting businesses to consumers, problems and hurdles will disrupt functionality. A quick and effective customer support team should be instantly and easily accessible from the payment solution provider to ensure timely resolution.
Saving money cannot be a top consideration when setting up an online platform – everything we've discussed above is more critical. Having said that, if you are starting or are a small- to medium-sized business, you need to find a solution that offers multiple payment packages based on your needs without consuming all the margin generated by online sales margin. 
Business owners must know precisely and in real-time how much money the online system deals with on their online store. Intelligent tracking, reporting, and analysis features help business owners and managers better understand where they stand and make essential decisions for their business going forward.
If your business caters to customers in several countries, you must choose a payment gateway that facilitates consumers from every country you target. The system should cover everything from accessing the platform and setting up an account to making payments in multiple currencies and with different card types.
What are the best online payment gateways?
Here it is the 6 Popular Online Payment Gateways in Egypt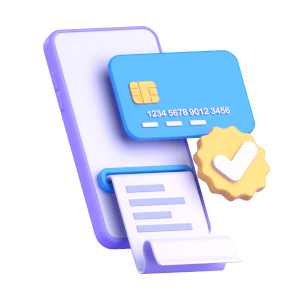 1. Amazon Payment Services
One of the most famous payment gateways used by Egyptian consumers and businesses is Amazon Payment Services (APS).
A globally recognized and highly reliable platform that allows customers to make easy online payments and offers installment services and a payment collection option, among many other things, it's a top choice for consumers.
The platform also favors businesses by providing them with a reliable and safe platform for contactless payments, a range of packages based on the company's needs, and a highly user-friendly dashboard.
The crystal clear visibility makes transaction tracking and analysis convenient, allowing managers to remain on top of their performance and improve it through informed decision-making.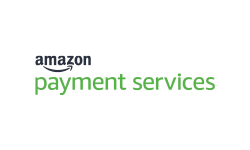 Country of origin: USA
Set up fees: 1,200 EGP
Recurrent fees: 650 EGP monthly
Transactional fees: 2.75% transaction fee + 2.5 EGP processing fee per transaction.
Cash-on-Delivery option: Cash on Delivery is available under certain conditions. Fees may apply, and they are non-refundable.
POS terminals: No
Website pricing page: https://paymentservices.amazon.com/pricing
2. Fawry online payment
Another of Egypt's more popular payment gateways, Fawry, allows business owners to receive payments from customers and make payments to suppliers.
Customers can use the app to make transactions online, pay bills, withdraw or deposit money through POS machines across the country, and much more.
For you as a business, Fawry offers a reliable platform that keeps customers happy, loyalty and reward programs, and ticketing solutions, among other things.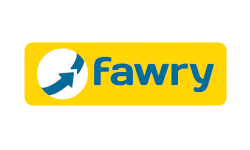 Country of origin: Egypt
Set up fees: 999 EGP
Recurrent fees: None
Transactional fees: 2.75% transaction fee +3 EGP processing fee per transaction
Cash-on-Delivery option: Yes
POS terminals: Yes
Website pricing page: https://fawrydigital.com/pricing
3. Khazna Online Payment Gateways
From making online payments to availing of Buy Now, Pay Later (BNPL) services and paying their bills through a digital platform, Khazna is popular among consumers. It also allows users to pay through installments, to pay bills, etc.
Khazna is also launching a prepaid card that will facilitate money deposits and withdrawals, and online payments, among other things. The card will also allow companies to pay their employees seamlessly, allowing them to take care of internal and external financial commitments through a single platform.
With a guarantee of secure transactions, different business packages, and adequate customer support, the platform is an excellent choice for small to large-sized companies in the country.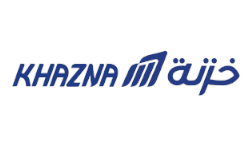 Country of origin: Egypt
Set up fees: No information
Recurrent fees: No information
Transactional fees: No information
Cash-on-Delivery option: No information
POS terminals: No information
Website pricing page: https://khazna.app/
4. 2Checkout/ Verifone
When we look at apps that rule the online transaction space on a global reach, 2Checkout is a name you'll find near the top of the list.
It allows you to expand into international digital commerce with smooth and secure worldwide payments in 87 currencies. 2Checkout provides global tax, financial, subscription billing, and risk management services.
If ease of use and security are your top priorities, the app is a clever choice for your business. It allows you to integrate into almost all eCommerce platforms, including Shopify, Wix.com, and Ecwid, to name a few. Currently used by around 20,000 companies in more than 180 countries, the app is also a top choice for businesses in Egypt.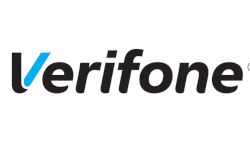 Country of origin: USA
Set up fees: None
Recurrent fees: None
Transactional fees: 3.5% transaction fee + $0.35 per successful sale (goods)
4.5% transaction fee + $0.45 per successful sale (subscriptions)
6.0% transaction fee + $0.60 per successful sale (digital products)
Cash-on-Delivery option: No information
POS terminals: No
Website pricing page: https://www.2checkout.com/pricing/
5. Paymob Egypt
Another app that makes handling incoming and outgoing payments on a local and global scale easy is Paymob. A secure and hassle-free way of payment delivery, the platform aims to enable cashless services and ecosystems with robust APIs, intelligent algorithms for fraud detection, and a PCI security certification. Your customers will gain peace of mind, knowing they will not fall victim to cyberattacks.
On the business end, the integrative dashboard allows business owners and managers to maintain complete visibility of everyday business transactions. This facilitates you in making smart decisions, maximizing revenue, and boosting your bottom line.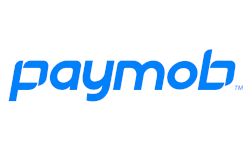 Country of origin: Egypt
Set up fees: None
Recurrent fees: None
Transactional fees: 2.75% transaction fee +3 EGP processing fee per transaction
Cash-on-Delivery option: Yes
POS terminals: Yes
Website pricing page: https://paymob.com/en/pricing
6. OPay
payment
OPay is a CBN-licensed online money platform that allows your business to make and receive payments. It also gives users the functionality of paying bills, a offers users the option of installment plans, increasing their ability to spend more.
POS machines at many locations across the country also make the payment collection and delivery process a smooth and easy one. But that's not all – with a highly user-friendly dashboard, the app allows your business to keep track of transactions, effectively analyze its performance, and make intelligent, data-driven decisions for the future.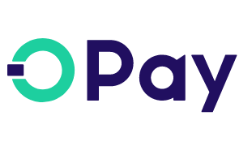 Country of origin: Nigeria
Set up fees: None
Recurrent fees: None
Transactional fees: 0.6% transaction fee and then 0.5% processing fee per transaction after upgrading to Preferred Merchant status.
Cash-on-Delivery option: Yes
POS terminals: Yes
Website pricing page: https://www.opayweb.com/mini-pos/
The Bottom Line
All the payment options mentioned in this article are brilliant choices for businesses and consumers. It all comes down to choosing the right one for your needs. Here's what you need to do:
Analyze your business requirements.

Study your customer preferences and choices.

Explore the various packages and options the different payment platforms offer.

Use all the data gathered to make an informed decision.
The right payment platform helps you maximize revenue, gain consumer trust, and streamline money matters seamlessly. And it all starts with making the right choice.
If you are an Online Store that sells in Egypt, consult our The Future of eCommerce in Egypt blog post.
Best of luck!
NAOS Digital is a digital agency. Our team has the expertise and experience to deliver beautiful and functional websites.
We have worked with many clients across industries, such as e-commerce, non-profit organizations, entertainment companies, etc. Contact us to build engaging websites to convert your audience to your business objectives (information, leads, or sales).
We help you achieve your goals by creating websites that sell. We will work together to create something truly unique for your brand throughout the process!