The Future of eCommerce in Egypt: Challenges to Consider for an Industry that will generate 9 billion US $ in 2023.
Welcome to the Future of eCommerce in Egypt, where everything is just a click away. With 50% of Egyptian adults spending more than 30 minutes commuting daily, this promise was bound to resonate with consumers. And finally, the covid 19 pandemic has convinced the most reluctant people to adopt this easy and convenient way of shopping.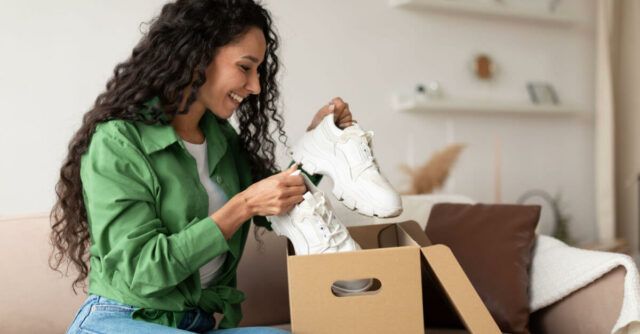 These shifts in consumer demand are here to stay: Egypt's sale of physical goods via a digital channel will experience a yearly growth rate of around 22% between 2021 and 2025, while the global average will be 6%.
However, some challenges still need to be addressed to enhance the overall quality of the e-commerce experience in Egypt.
Snapshot of the eCommerce in Egypt
In 2022, Egyptian consumers purchased 3,4% of all their goods online (for 6,9 billion USD), and this share will grow up to 4,5% in 2025.
Consumer electronics remain the sector dominating the eCommerce industry. Fashion, Apparel & Footwear follow them. And in the third position is the Food and Drink sector, thanks to delivery companies that link supermarkets, groceries, and restaurants with their customers.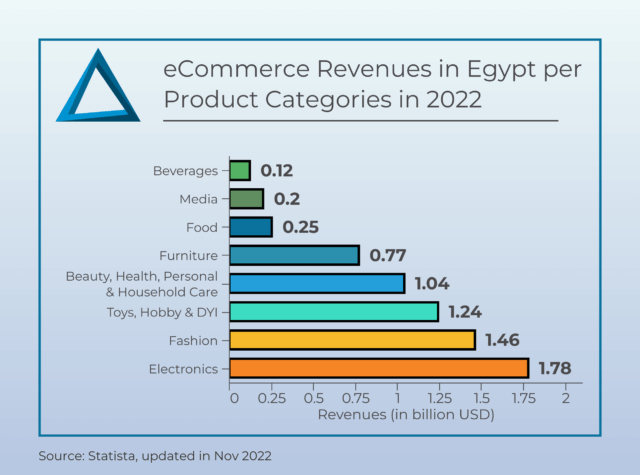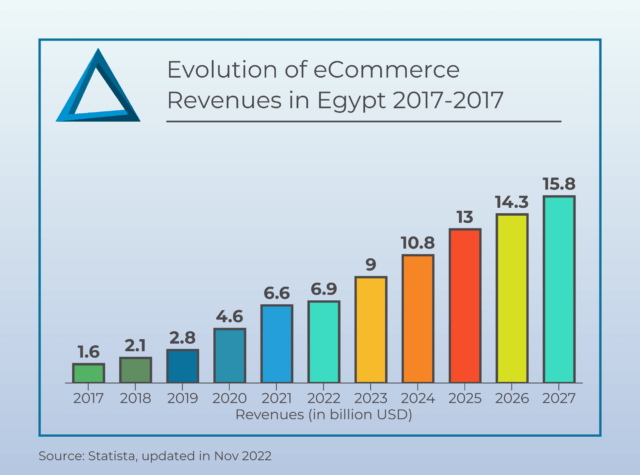 Almost 60% of Egyptian online shoppers are between 18 and 34. Rapid eCommerce growth is occurring due to Egypt's young, tech-savvy population and the massive use of mobile internet.
The high prevalence of social media in Egypt has changed consumers' buying habits. Social media platforms make it easy for brands to promote their products and connect with their audiences. They have learned to build strong follower bases online. Consumers rely more and more on online reviews and comments.
The supply chain challenge: controlling delivery costs
Shipping and delivery can be the most time-consuming part of an eCommerce business. It's a complex process that requires planning, workforce, and time—and there are no shortcuts to this headache.
But let's talk about the most expensive and complicated part of the delivery process: the last mile. In most cases, the goods' final destinations are the customer's house.
For local businesses, this means they must constantly innovate and improve to meet the high expectations of consumers who want fast service. Amazon's promise of same-day deliveries has set very high standards in the industry. 
Some online stores in Egypt only serve specific neighborhoods because it's either too expensive or difficult to deliver elsewhere. It requires a lot of staff members or several warehouses.
The considerable extension of Greater Cairo makes it very difficult to guarantee delivery to all the districts on time and without the costs associated with transportation becoming excessive.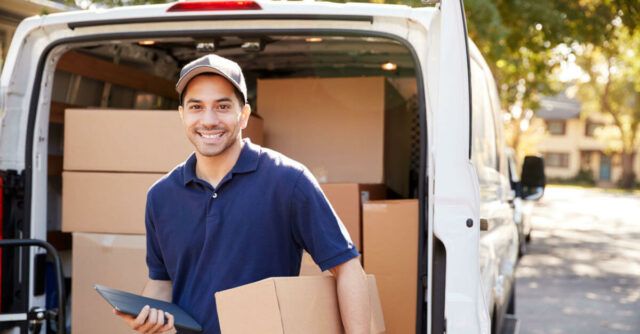 Specificities of transactions and payment process of eCommerce in Egypt
In Egypt, the card penetration rate is still shallow because payment cards are often considered more expensive than cash and checks. Customers want to use forms of payment that they know they can trust.
There are only about 10 million credit/debit cardholders, which explains why in 80% of cases, Egyptian consumers prefer to complete their e-commerce transactions through cash-on-delivery (COD). However, credit card issuance is increasing by roughly 40% per year, indicating that cash needs may decrease.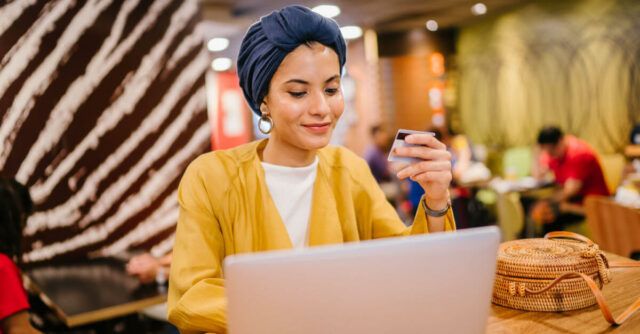 According to Visa Egypt, 75% of consumers said the security of a payment method was most important when deciding how to pay online rather than COD.
But COD has several disadvantages for the merchants:
Cash may result in many failed deliveries (whether there is a no-show or the consumer is unreachable.
Buyers can reject the package

once it reaches their door. The online store does not only lose a sale; if it wants to recover the parcel, it will pay additional costs for its return to the warehouse.

Because of the risks involved in carrying cash, most couriers set a maximum amount for cash-on-delivery shipments. The limit varies depending according to the courier company.
How to win the trust of online consumers of eCommerce in Egypt?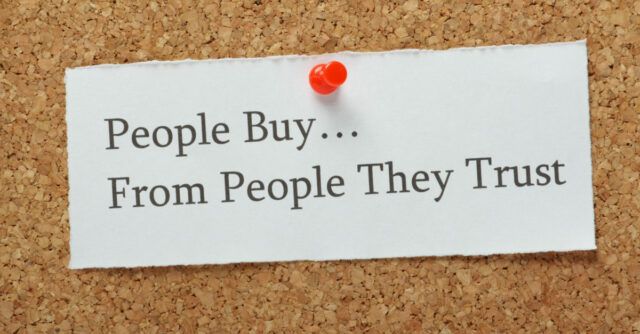 Egyptian consumers tend to trust local brands less than foreign ones. And the customer's ability to trust an eCommerce platform is essential for any successful business. We can break this down into six key areas:
Brand recognition

. Create brands that are recognizable and meaningful to consumers.

User experience.

Create a pleasant and frictionless experience for your customers navigating your e-commerce, from discovery to after-sales support.

Payment experience. Find the right mix of payments and flexibility.
Delivery Tracking.

Customers should be able to track their parcel anytime and receive notifications at every milestone.

A clear

Returns policy

and processes. Shoppers will be more likely to shop online if they know it's safe to make mistakes or return items if the product does not meet their expectations.

Customer support

. Excellent customer support is the best way to get loyal clients. They need to feel there are humans behind the machine that can answer their questions.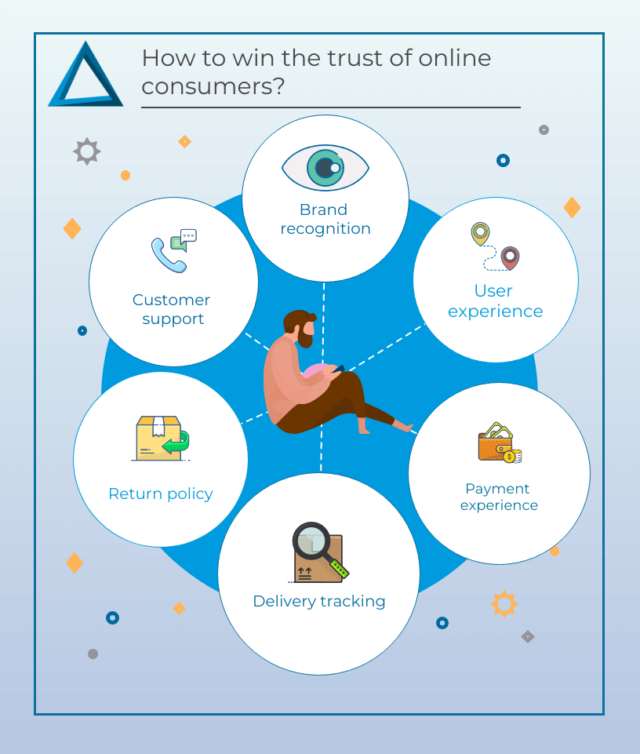 Attracting Vs. Converting consumers
Targeting customers is more challenging than it was ten years ago when you relied on Google's search engine to target your audiences. Now, you have your Social platforms, different search engines, and video platform.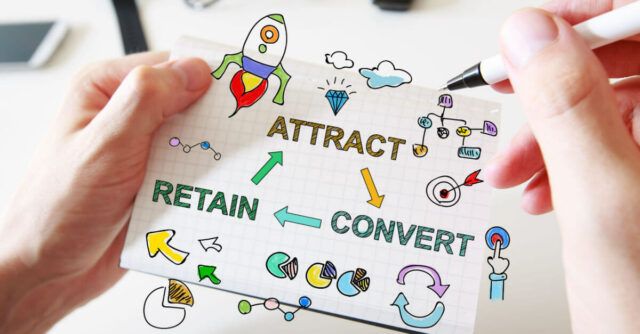 Even if attracting traffic to your website is relatively easy, converting is the biggest challenge. Online merchants must focus on abandoned carts and investigate consumer sentiment.
Companies must listen carefully to what their customers say and comment about their brands on different social platforms, in public and private groups. The reviews and feedback from customer support are pure gold for it. 
The entry barriers for the B2C eCommerce in Egypt are low. Still, the industry is gaining in competitivity.
If you're looking to enter the B2C eCommerce sector in Egypt, you'll find that the entry barriers are low. But there are a few challenges that may take some time to overcome. Players must focus on three key capabilities to build a successful e-commerce business:
Infrastructure.

Technology is the first thing!

Operations of eCommerce in Egypt.

Availability and selection of products. Storage and integrated supply chains (in-house or outsourced to fulfillment companies, for example). Capabilities around analyzing data across all stages of the supply chain. Being able to take corrective measures and actions.

Consumers.

Expertise in targeting customers through different channels.
Conclusion
The B2C eCommerce in Egypt has enormous potential but will take some time to reach it. There are solutions to the challenges mentioned above. Still, it will take time and effort from everyone involved, especially in the inflation context. The biggest challenge is consumer confidence in online transactions, which is still very low despite its growth over the past few years.
In addition to this issue, many potential buyers prefer cash-on-delivery orders rather than paying online.
Merchants have to invest more money in logistics and payment processing than they'd like; however, these costs could be offset by offering free delivery options along with attractive discounts or incentives for making purchases online instead of offline.
Do you need help with your eCommerce business?
That's what we do at NAOS Digital. We are experts at unlocking your brand's Digital Marketing Potential. Our expert knowledge of digital marketing combined with your unique situation makes us create a custom strategy that will help you increase revenue, attract new customers, and improve customer loyalty.
We offer the following services: Advertising, Social Media, Branding, Website Building, and SEO. Let's discuss how we can increase your ROI with digital marketing and social media!